Join us on Saturday, May 5, 2012, for the biggest day in the comic book industry (and the best family-friendly event in Charlotte) - FREE Comic Book Day! From 11 am until 4 pm, Spandex City Comic Book Lounge in Charlotte, NC will have fun and FREE events lined up for the whole family.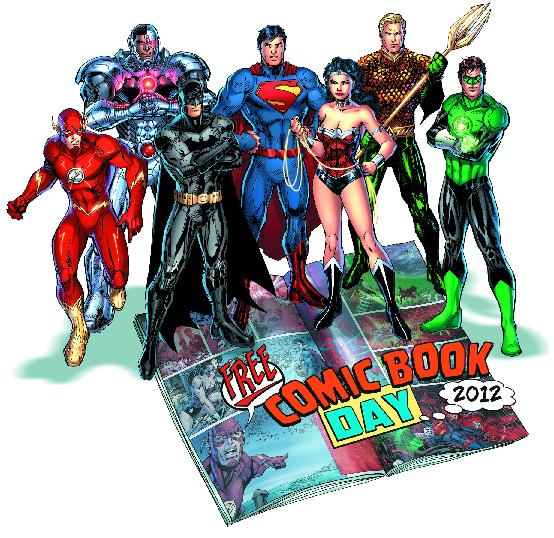 We'll have fun and FREE "carnival-style" games for everyone to play and FREE COMIC BOOKS!* There will be comic books appropriate for all ages!
NEWS FLASH: We have intelligence reports that members of the 501st Legion Carolina Garrison will be invading Spandex City on Free Comic Book Day! We are calling upon all Jedi Knights and Padawans who have survived "Order 66" to arrive with their lightsabers at 10:45 am to defend the store from stormtroopers, scout troopers, clone troopers, imperial guards, and Mara Jade, the Emperor's Hand!
We will also have door prize drawings throughout the event. You could win action figures, graphic novels, cards, collectors' items, t-shirts, and other cool stuff. Arrive in an appropriate costume, and you'll be eligible for even more great prizes.
Plus, our popular Trivia Challenge game will return on Free Comic Book Day. Will you be one of the lucky (and knowledgable) winners?
In addition, we'll be donating 10% of all sales from 11 am - 4 pm to Charlotte-Mecklenburg Schools. And if you purchase a graphic novel to donate to area schools, we'll match the donation!
Speaking of schools, Spandex City and Discovery Place have partnered together this Spring to bring the "Science & Superheroes" contest to local students in grades K-8. The winning entries will be displayed at the store on Free Comic Book Day. Make sure you stop by to see how superheroes derive their powers and abilities from Science, Technology, Engineering, and Math.
We have two great local artists, Rich Molinelli and Tony Scott, who will available for autographs and sketches*. Both have done great work on the latest Marvel trading card set, and they have each been recently featured Rittenhouse Archives Artist of the Day! Check out some of Rich's and Tony's one-of-a-kind sketch cards!
We'll keep updating the daily schedule with more great family-friendly activities and creative talent appearances, so bookmark this page and check back often!
10:45 am Jedi Knights and Padawans assemble!
10:55 am Stormtrooper Invasion!
11 am Doors open
11 am - 4 pm Comic Book Carnival
11 am - 4 pm "Science & Superheroes" Contest winning entries on display
11 am - 2 pm Meet & Greet with the 501st Legion Carolina Garrison
11:30 am - 4 pm Door prize drawings every half hour
12 noon Costume Photos and Prizes
1 pm - 3 pm Marvel Sketch Artist appearances
* While supplies last; limit of 1 free copy of each available title per customer; FREE Hero Bucks membership per family required; all autographs and sketches will be done at the sole discretion of the artists on "blank" cover variant comics (available for $4.99 while supplies last)