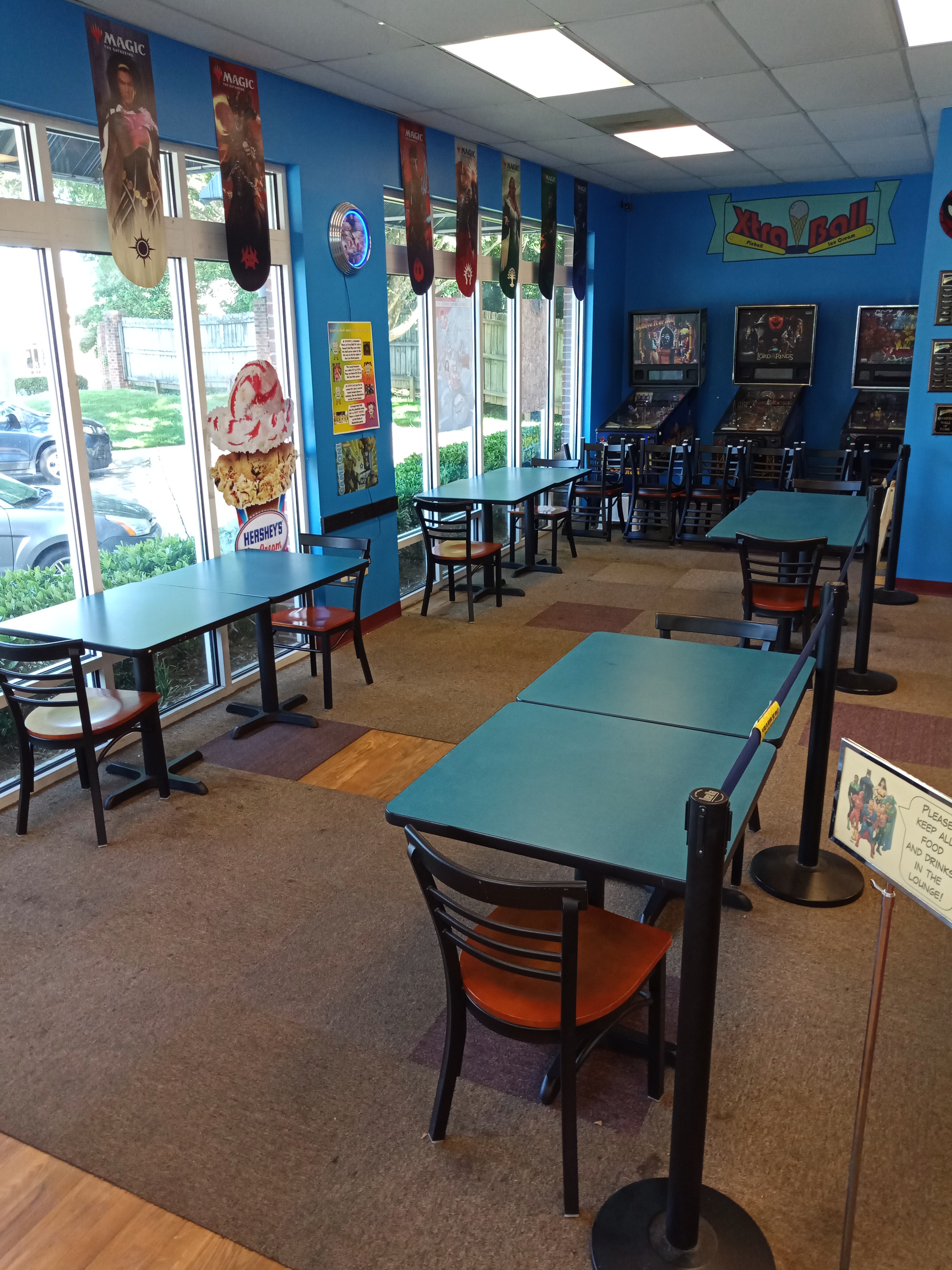 As the State and County gradually lift business closure and travel restrictions that were put in place due to COVID-19, Spandex City and X-tra Ball will be re-opening and re-establishing our normal schedule of activities in phases. We are currently in PHASE 2 (see below):
We will operate with reduced hours (see our calendar).
Customers who are showing, or who have recently shown, symptoms of COVID-19 should not enter.
All employees and customers are REQUIRED to wear face coverings.

We will allow a maximum of 14 people in the retail store at a time; parties are asked to stay together.
Pinball machines will be turned off.
Organized play tables are arranged to reduce capacity and increase social distancing (as shown).
Organized play events will be limited to "1 vs. 1" events with a maximum of 8 participants (sorry, no spectators allowed); no handling of other players' game materials is permitted, and players are required to wear face coverings. The following events will be operational:


Sealed Magic (Fridays at 6:30 pm)
Pokemon League (Saturdays at 1 pm)

Magic and Pokemon events are unsanctioned. Results and participation is not reported to Wizards of the Coast or the Pokemon Company.
All tables will be disinfected between event rounds.
Eat-in ice cream service is permitted (limit 1 group eating in at a time)
Dungeons & Dragons resumes (limited capacity; pre-assigned playgroups only; reservations required)
Future Phases:

Event capacity will be expanded.
Sanctioned Pokemon and Magic events will be offered.
Multi-player events (e.g. Commander) will return.
Pinball machines will return to operation.