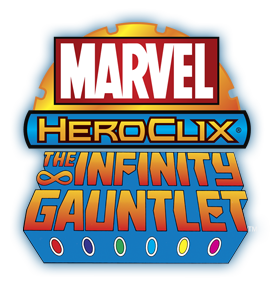 NEW! Anyone can play in the August Infinity Gauntlet tournament. Every player will receive the LE Terraxia piece and can win Chaos War LE pieces, but only QUALIFIED players (see below) can win one of the two Colossal Thanos figures.
Spandex City is happy to host the Heroclix Infinity Gauntley Challenge for Charlotte, NC in 2012. This is a series of Heroclix Tournaments that run once a month from January through August. We have both All-Ages and Youth (14 and under) divisions.
Each player at the first 7 tournaments will receive a great participation prize, starting with the Infinity Gauntlet itself in the first month, and followed by one of each of the six Infinity Gems each subsequent month! You can also win exclusive Limited Edition Heroclix figures at each tournament!
Players who compete in at least 4 of the first 7 tournaments (See exception below) will have a chance to win a COLOSSAL THANOS Heroclix figure in the final tournament!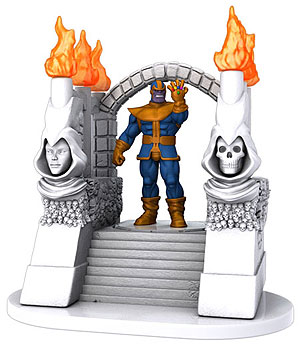 The tournaments will be a mixture of "Sealed Double Booster", "Half and Half", and Constructed formats, culminating in a massive 1000-point brawl for Colossal Thanos in August. Performance in each tournament does not affect your chances to win Thanos, but in order to qualify to win Thanos, you must participate in AT LEAST 4 of the previous Infinity Gauntlet Challenge tournaments at Spandex City!
These tournaments will also "overlay" our regular Winter, Spring, and Summer seasons, so the points you earn at each tournament will help you work your way towards our season-ending playoffs, where you can win a trophy, a store credit, a place on our wall of fame, and bragging rights! You can see our regular season schedule here.
The "Infinity Gauntlet Challenge" for All-Ages will be held on the following dates (all at 6:30 pm):
Thursday January 12, 2012 - Sealed
Thursday February 9, 2012 - Half and Half
Thursday March 8, 2012 - Sealed
Thursday April 12, 2012 - Sealed (Galactic Guardians)
Thursday May 10, 2012 - Constructed
Thursday June 14, 2012 - Sealed (Batman Dark Knight)
Thursday July 12, 2012 - Sealed (Chaos War)
Thursday August 9, 2012 - Colossal Thanos 1000-point Constructed
The "Infinity Gauntlet Challenge" for Youth will all be "Booster + Gravity Feed" and will be held on the following dates (all at 5:00 pm):
Friday January 13, 2012
Friday February 10, 2012
Friday March 9, 2012
Friday April 13, 2012
Friday May 11, 2012
Friday June 15, 2012
Saturday July 14, 2012 (12:00 noon)
Thursday August 9, 2012 - Colossal Thanos 1000-point Constructed (combined with All-Ages)
Because the Thanos tournament on August 9th is part of our Summer season, you can also qualify to play in that tournament by registering for any 4 of the All-Ages Summer Season (or any 2 of the Youth Summer Season) tournaments.
The build rules for the Thanos Tournament will be as follows:
1000 point maximum
Spandex City Summer Season Legal Sets (Wizkids Modern Age)
No single piece (including its resources) may comprise more than half of your force
No feats, battlefield conditions, or ATAs.
No Infinity Gauntlet or Infinity Gems
The entry fee for the Thanos Tournament will be $11.99, and each participant will receive a Terraxia limited-edition piece and a 2-sided tournament map, just for playing! After 3 rounds of Swiss Draw, the top 2 QUALIFIED players will play a single match for 1st/2nd place. Prizes will be as follows:
1st place - Colossal Thanos (of course!)
2nd place - Sealed Avengers Movie "mini-brick"
3rd place - Sealed Batman Dark Knight Gravity Feed "mini-brick"
Fellowship - Colossal Thanos!
Other players 3-0 after Swiss Draw - A Chaos War LE piece
As of August 2nd, the following players have QUALIFIED to win the Colossal Thanos
Rodney H.
Ben B.
Pip A.
Charles S.
Jim H.
Jason H.
Randy S.
Robert E.
Jeremy R.
Sean O.
Jeremiah W.
Kevin O.
Nathan G.
Sam G.
Nathan R.
Brad H.
Corey W.
Will T.
Douglas A.
Gatlin P.